The Euromant® concrete lining system is an external application to rehabilitate the ring wall directly on-site without interruption of site service ensuring business continuity. It is of particular interest to seal the ring wall of storage tanks.
The ring wall on the outside of the tank is sealed between the concrete base and the steel shell of the tank in the way that corrosion of the steel, degradation of the concrete and water propagation below the tank can be avoided.
The Euromant® coating system has especially been developed to seal this area which is exposed to the high mechanical load and to harsh environmental conditions. The system consists of adhesion primers, sealing material, and a UV protective final layer.
Structure of the lining system: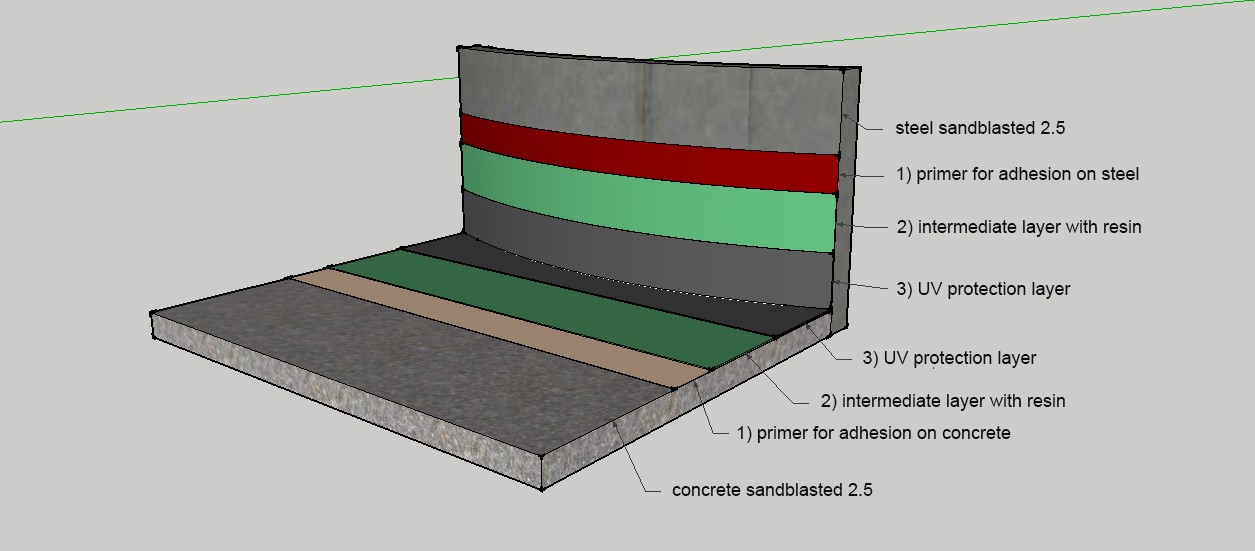 Preliminary Works:
Surface treatment, cleaning, degassing, remove all oil residuals
High-pressure water jet or sandblasting (SA 2,5)
Repairing the surface and leveling of weldings with epoxy mortar
Coating Application Technology:
Ground layer application with a roller:
For concrete subsurface (can be sanded for better adhesion): Adaflex Primer®
For steel subsurface: Adagrund®
Application of Euromant® layer on concrete and steel surfaces
Application of the conductive/antistatic layer Adaflex® by rolling on concrete and steel surfaces
Installation note:
The above information is based on tests by approved institutes (e.g. TÜV Süd Germany) and many years of experience. As the lining performance depends on correct installation, we offer application courses for certified installers and installation supervisors and provide certificates which shall be renewed every 3 years.